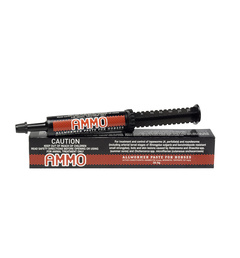 Ammo Allwormer 32.5g Syringe
Broad Spectrum abamectin and morantel tartrate horse wormer and bot paste
Product Description
Broad Spectrum abamectin and morantel tartrate horse wormer and bot paste
Active ingredients
Abamectin 4mg/ml and Morantel Tartrate 167mg/ml
Ammo is a mectin based wormer with a tape wormer added and can be used in the treatment program for the treatment of most worms found in horses. IT treats and controls the following worms.
Tapeworms: Anoplocephala perfoliataLarge
Strongyles: adult & larval stages of Strongylus vulgaris adult & tissue stages of S. edentatus adult stages of S. equinus
Small Strongyles: including benzimidazole resistant strains of adult and immature Cyathostomumspp, Cycliocyclus spp, Cylicostephanus spp, Cylicodontophorus spp, Gyalocephalus spp,Triodontophorus spp: adults
Pin Worm: adult & immature Oxyuris equi
Roundworm: adult & immature Parascaris equorum
Hairworm: adult Trichostrongylus axei
Neck Threadworm: microfilariae of Onchocerca spp
Bots: oral & gastric stages of Gasterophilus spp
Lungworm: adult & immature Dictyocaulus arnfeldi
Intestinal Threadworm: adult Strongyloides westeri
Large mouthed stomach worms: adult Habronema muscae
Skin lesions caused by: Habronema spp, Draschia spp cutaneouslarvae (Summer Sores), andOnchocerca spp microfilariae (Cutaneous Onchocerciasis).
Dosage
The paste is dosed at 5ml per 100kg body weight so a full 32.5g syringe will treat up to 600KG. The syringe has a dial mechanism so dosing can be done accurately on a weight basis.
Ammo all wormer is safe to use in pregnant mares and foals over 4 weeks of age
An individual worming program varies between horses and properties and is based on climatic and stocking conditions. Generally horses should be wormed every 6 to 8 weeks commencing from about 6 weeks of age. Any Horse introduced to a property should be wormed immediately on arrival and quarantined from other horses for several days. If in doubt discuss your worming programme with a veterinarian and faecal egg count can be done to assess worm activity.
Store at room temperature (below 30oC)
APVMA registration 56187
Additional Information
| Attribute | Information |
| --- | --- |
| Weight | .072 kg |
| Dimensions | 24 x 5 x 6.5 cm |